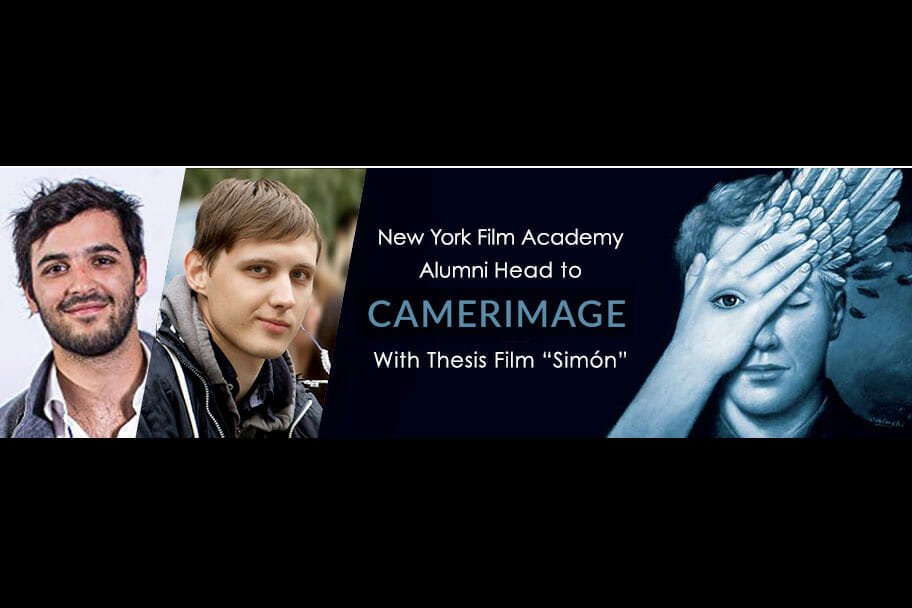 New York Film Academy asked Romas and Diego a few questions about the festival
It's been a dream of New York Film Academy (NYFA) Cinematography Alum Romas Usakovas to go to the International Film Festival of the Art of Cinematography Camerimage for some time, and this November, that dream will come true. Simón — the short film written and directed by NYFA Filmmaking Alum Diego Vicentini — will be featured at the famed festival in Poland this November, and Usakovas, who served as the film's director of photography, will be up for the Laszlo Kovacs Student Award for Best Cinematography.
Filmmaker Diego Vicentini has attended NYFA all over the country, first attending the 4-week Filmmaking workshop in New York City in 2013. He then started the MFA program at NYFA's South Beach campus in Miami, before completing his studies at the Los Angeles campus. It was there that he met with and started collaborating with Romas Usakovas.
Usakovas was born in Lithuania and gained a passion for filmmaking in high school. One of his biggest inspirations was the films of Stanley Kubrick, especially Eyes Wide Shut. In a phone interview, he told NYFA he fell in love with the medium and "the impact you can make just from audiovisual film."
After high school, Usakovas attended university in Russia where he studied film, but his education was more oriented toward theory and he was only making two projects a year. He eventually fulfilled another dream by moving to Los Angeles, where he took the MFA program at NYFA's cinematography school in the Fall of 2016.
NYFA's Chair of Cinematography in Los Angeles is prolific Hollywood director of photography Tony Richmond, who has shot countless hit movies, including The Sandlot, Legally Blonde, The Man Who Fell to Earth, and Dirty Dancing: Havana Nights. "Working with Tony," says Usakovas, "I felt very honored."
Simón started as a NYFA thesis film, a narrative short inspired by true events about a fighter from Venezuela seeking political asylum in the US. Since it was a thesis film, the crew was given helpful advice from the Academy and from Richmond.
"I wrote this story," tells Vicentini, "as a need to raise my voice for all the people in Venezuela who are currently suffering from the humanitarian crisis of food and medicine shortages caused by the oppressive and authoritarian regime in power." He continues, "Venezuelans are dying every day and the world needs to know about it. This has caused the single largest refugee crisis in the Western hemisphere, as Venezuelans continue to flee the country."
Vicentini and Usakovas worked closely together to achieve the look of the film. Usakovas says the look was partially inspired by the 2011 film A Separation. Usakovas also watched other Camerimage winners to prep as well, and says Simón was also influenced by the tennis film Borg vs. McEnroe.
"For every single movie," stated Usakovas, "I try to find a visual reference or visual mood to make specifically for a film."
The hard work of Vicentini and Usakovas paid off. The International Film Festival of the Art of Cinematography Camerimage is a premiere event for cinematographers and is held each year in Poland. Since 1993, it has given out the prestigious Golden Frog award, with previous winners including The Piano, City of God, Pan's Labyrinth, and Slumdog Millionaire.
"I feel very honored and fortunate to have been accepted into such a prestigious festival as Camerimage," remarks Vicentini, "and very proud of the work my cinematographer, Romas Usakovas, accomplished. I am very excited." Vicentini plans to attend the festival in Poland with his cinematographer. Simón will be screened as part of Camerimage's Student Etudes Competition, where the winning cinematographer will be awarded with the Laszlo Kovacs Student Award — The Golden Tadpole.
Usakovas says he's been "waiting to go for a long time" to Camerimage. He added, "I'm very excited about it." After the festival in November, Usakovas will get back to work behind the camera. He already has another upcoming project planned, a short film. He plans to stay in Hollywood for now, saying he loves LA. Vicentini is also keeping busy, writing a feature he may shoot in 2019. He'll be acting in a lead role in an upcoming feature as well.